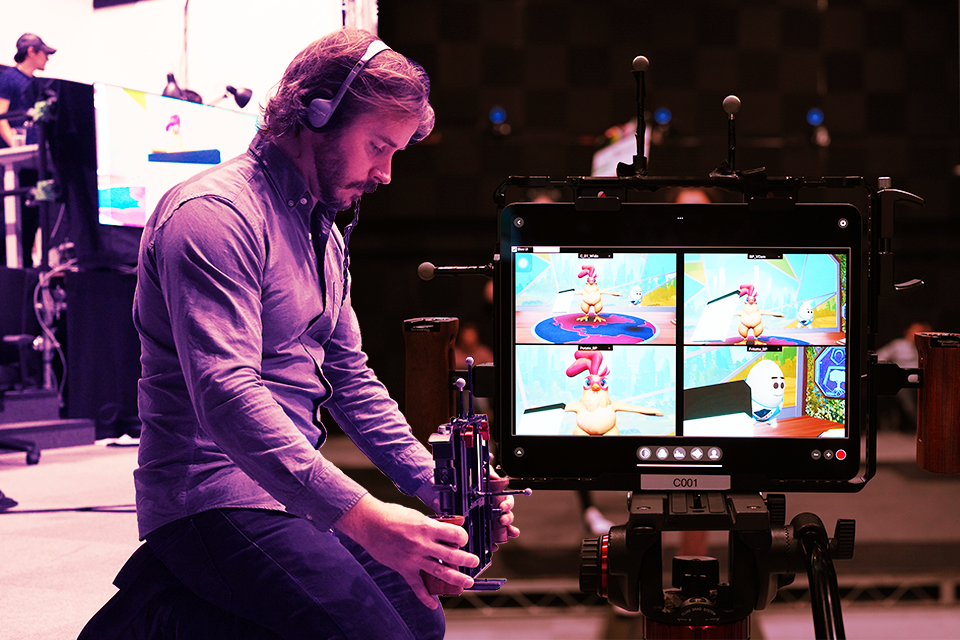 Versatile Media helped bring the adorable Chicken and Egg duo from the new Future Chicken! brand to life for the talented team at Wind Sun Sky.
The Future Chicken Today Show is a 3D animated mixed media digital series for kids 7 to 9 years old and part of a larger eco-tainment initiative designed to address the eco-anxiety about the future of the climate through evidence-based positivity that includes a program of short form content, Roblox game and podcast.
To produce the show, WSS utilized Versatile's virtual production real-time workflow to its whole potential and was fully realized inside of Unreal Engine.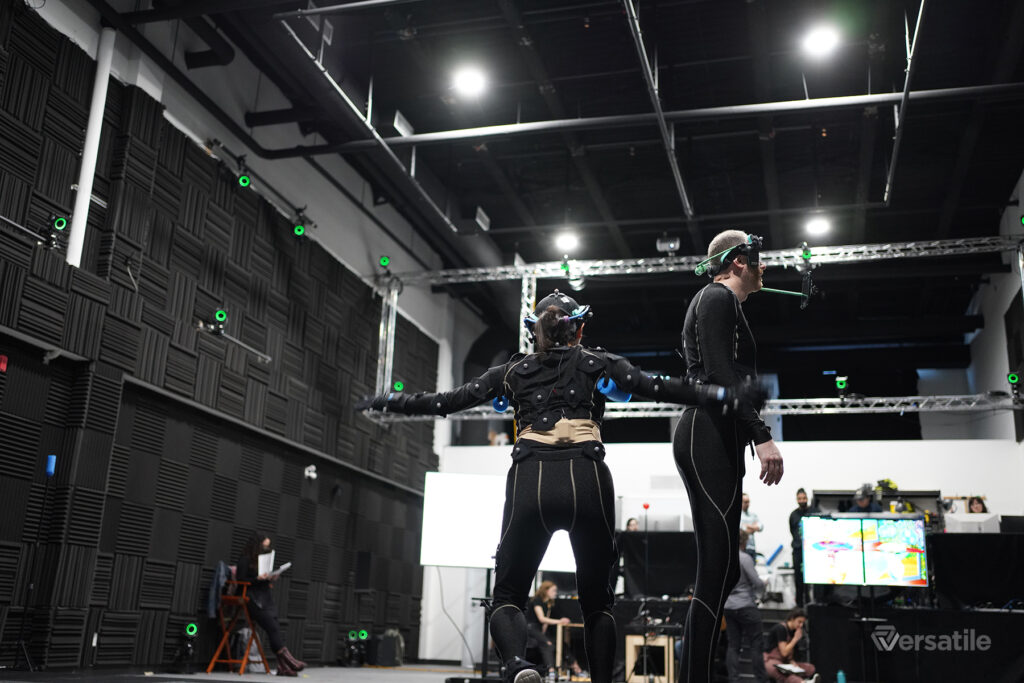 Capturing full body performances of Potato and Frittata.
The team at WSS provided the two hero characters; a wacky egg with flying rocket pants named Frittata and a time-hopping chicken, Potato, along with one main environment; the BioBarn as the characters' headquarters and set from which they broadcast the Future Chicken Today Show.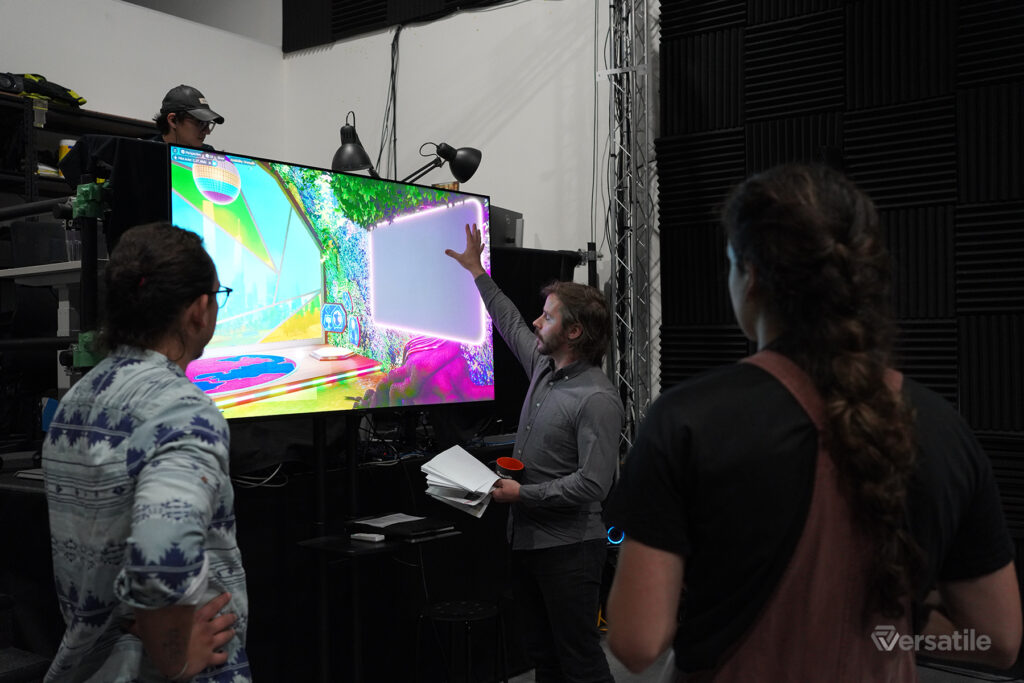 The Versatile team took the existing environment, which included the 3D modeling and texturing and completed all the lighting for production. This included the unique fluorescent lighting of the flowers, and the glowing lights of the Tree, a secondary character as per Wind Sun Sky's vision.
WSS Director David Convery, establishing camera set ups during real-time performance capture.
For the main characters, "Potato" and "Frittata", motion capturing included facial and full body performances all inside UE as well as additional real-world physics to add dimension to the animated characters.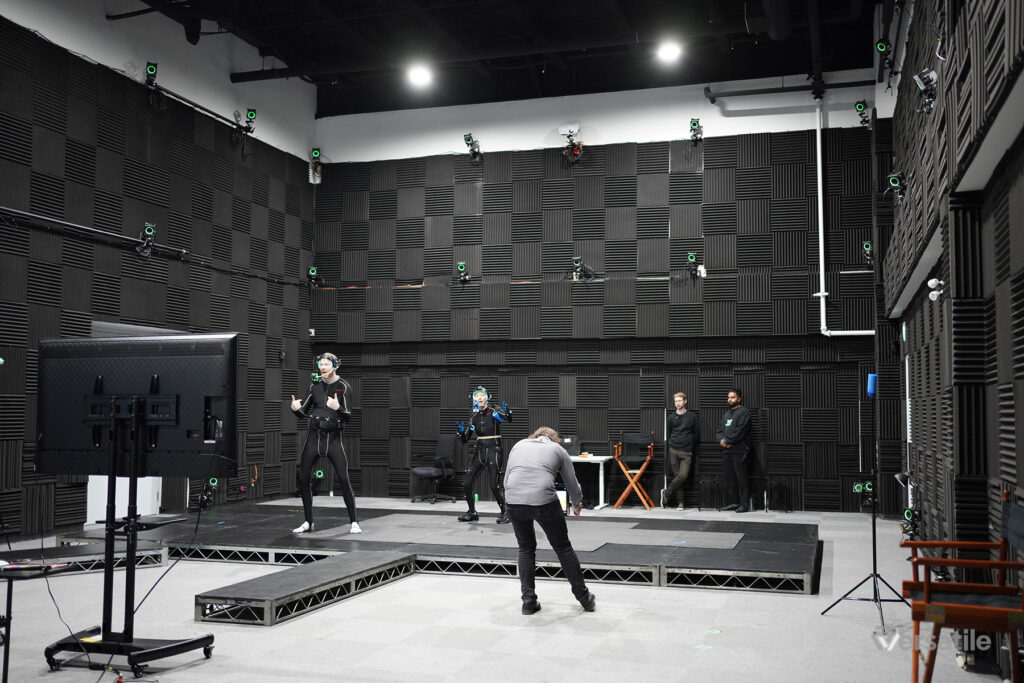 Versatile Media's Performance Capture Stages.
For Potato the director requested the tail and comb have some additional motion. As the goal for WSS was to utilize the real-time workflow to its fullest, The UE team took advantage of the Unreal Engine dynamics to avoid secondary animation during post.
The same was true for Frittata's googly eyes. The Egg's pupils had a random wacky-eye wobble adding a subtle detail to the character's essence during capture sessions. The rocket pants that make Frittata fly also utilized UE's Niagara particle system, which added dimension to the jet engine while avoiding post work.
"Real-time rendering power was a perfect fit for The Future Chicken Today Show as it was possible to create the look that producers and directors envisioned for the small screen with an efficiency that did not compromise their strict timelines."
– Ramiro Cuenca, Previsualization Supervisor

THE USE OF MULTIPLE CAMERAS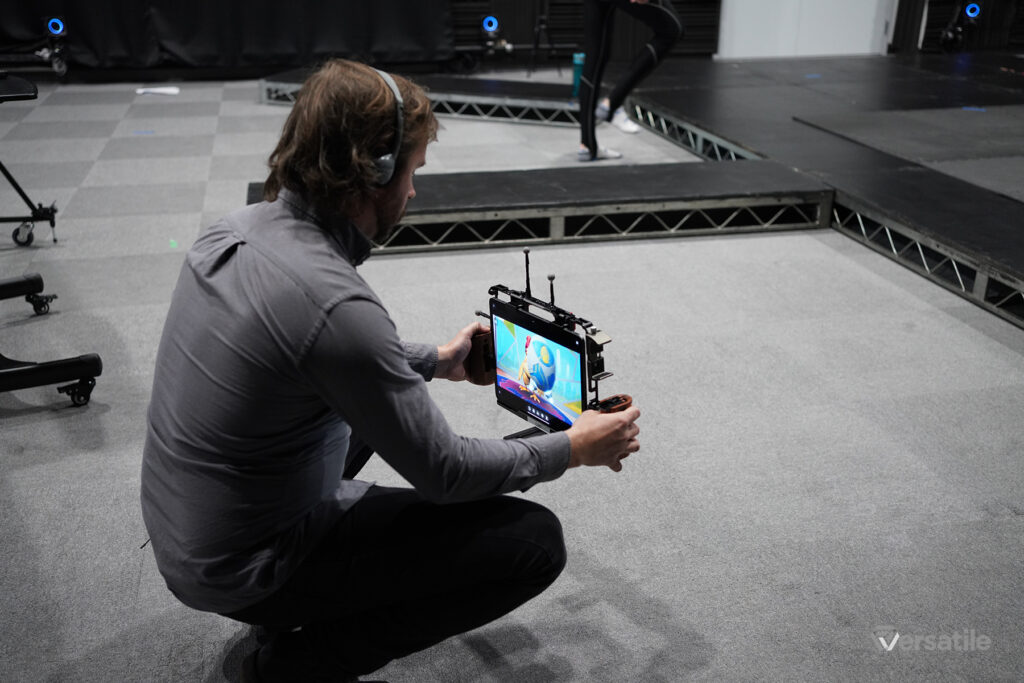 Utilizing Vcam during performance capture for key scenes to shoot 'handhelds' in addition to multi camera setups.
With the client's goal of little to no post processing, our Virtual Production team created multiple cameras inside the environment (BioBarn). So when actors performed their scenes, the director chose which camera angles they wanted to use from that same filmed take. In essence the UE team engineered the virtual set and cameras to be used like a (physical) studio TV set, recording from multiple angles at once. Those selected shots and angles were then rendered and given to WSS for final editing.
"It was wonderful to collaborate with Versatile Media in developing a specific real-time performance capture pipeline tailored for Wind Sun Sky's innovative "The Future Chicken Today Show". Their team were always willing to push the envelope to develop new features and processes with their performance capture pipeline enabling us to achieve the unique animation style we desired at the speed, pace, and budget we needed."
– Line Producer, Sandi Gisbert
As more 3D animation projects are greenlit and the utilization of real-time workflows become the standard, producing content with virtual production pipelines will facilitate a variety of budget levels and projects. Future Chicken is a new, ground-breaking digital multi-platform universe designed to help kids 6-9 years old counter 'climate doomism' with hope, inspiration and empowerment and is premiering November 5th on CBC and Nov. 10th on The Future Chicken Official YouTube Channel .

ABOUT WIND SUN SKY ENTERTAINMENT
Wind Sun Sky Entertainment (WSS) is a Canadian multimedia company led by former LucasFilm executive, Catherine Winder (Invincible, The Angry Birds Movie 1 & 2, Star Wars: The Clone Wars). Based in Vancouver, WSS works at the intersection of storytelling and technology to build franchises for the global marketplace, producing in all mediums including interactive, film, series (live action and animation), Roblox and mobile apps. To learn more about Wind Sun Sky Entertainment, go to https://windsunsky.com
ABOUT VERSATILE MEDIA LTD.
Versatile Media Ltd. is a global media company founded in 1993. The company has over 500 creative and technical artists and R&D staff, globally. Our North American virtual production studios and LED sound stages are located in Vancouver, Canada. The company has built a full cycle virtual production workflow including performance capture, previsualization stages as well as LED volumes for both servicing the film and television industry for the company's original IP and co-productions.
For more information please contact:
Roula Lainas, Marketing & Business Development Executive
Versatile Media Ltd.
Vancouver, Canada
marketing@versatile.media
Twitter / IG / Facebook / LinkedIn / Youtube @filmversatile
#filmversatile #versatilemedia #FutureChicken #WSS #PotatoTheChicken